A New Arctic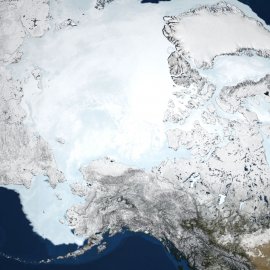 The conversation continues this week about the future of the Arctic. In this episode of World Ocean Radio host Peter Neill addresses a question he posed in last week's episode regarding the role that the United States might play during the 2-year Chairmanship of the Arctic Council (2015-2017). He uses the specific objectives and initiatives of the U.S. "One Ocean" Plan to back up why he is optimistic about the future of the Arctic.
About World Ocean Radio
Peter Neill, Director of the World Ocean Observatory and host of World Ocean Radio, provides coverage of a broad spectrum of ocean issues from science and education to advocacy and exemplary projects. World Ocean Radio, a project of the World Ocean Observatory, is a weekly series of five-minute audio essays available for syndicated use at no cost by college and community radio stations worldwide. A selection of episodes is now available in Portuguese, Spanish, French, Swahili, and Mandarin, enabling us to reach 75% of the world's population. For more information, visit WorldOceanObservatory.org/world-ocean-radio-global.
Image
Declining Arctic sea ice is one factor affecting the region's changing ocean ecosystem. This image based on data from NASA's Aqua satellite shows the extent of sea ice in March 2008. Credit: NASA
Follow the #ArcticFuture conversation on Twitter.