The Sculptural Magnificence of Jason deCaires Taylor: Art, Affect, and Ocean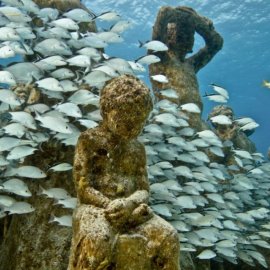 In this week's episode of World Ocean Radio we discuss the work of artist Jason deCaires Taylor, creator of underwater sculpture museums that explore the balance between society and nature and speak to how humans have affected the environment and our future place in it. His works, located in underwater museums offshore of Cancun and Spain, ask us to examine the transformations of nature and challenge our perspectives on life, community, identity, empathy, and understanding.
About World Ocean Radio
Peter Neill, Director of the World Ocean Observatory and host of World Ocean Radio, provides coverage of a broad spectrum of ocean issues from science and education to advocacy and exemplary projects. World Ocean Radio, a project of the World Ocean Observatory, is a weekly series of five-minute audio essays available for syndicated use at no cost by college and community radio stations worldwide. A selection of episodes is now available in Portuguese, Spanish, French, Swahili, and Mandarin, enabling us to reach 75% of the world's population. For more information, visit WorldOceanObservatory.org/world-ocean-radio-global.
Image
"Silent Evolution." Installation at MUSA (Museo Subacuático de Arte, Cancun, Isla Mujeres, Mexico.) The sculptural works of Jason deCaires Taylor serve as artificial reefs, providing habitat for fish and other ocean species. For more information visit his website, Facebook page, and follow him follow him @jason_decaires_taylor on Instagram.
Image Credit
Jason deCaires Taylor
Resources from this Episode
< Underwater Sculpture by Jason deCaires Taylor
< Percy Bysshe Shelley, Ozymandias