OCEAN TODAY serves as a portal to the most useful and interesting websites and organizations on ocean science and culture, to thousands of ocean-based curricula and educational resources, to our Ocean Directory of over 18,000 ocean organizations worldwide.
Our knowledge of the ocean today transcends the limits of a distant horizon and mysterious deep. Through exploration and scientific research we have begun to learn more about its physical elements, its cultural contributions, and its interaction with other natural systems--climate and fresh water, for example--that pertain directly to our personal, financial, and social welfare.
World Ocean Observatory adovcates for the ocean through independent, responsible, apolitical science, and is dedicated to advancing public understanding of ocean issues through institutional collaboration and partnerships, pro-active programs, and connection with individual subscribers around the world.

DISTANCE LEARNING RESOURCES
To support all educators and parents teaching from home in the weeks ahead, the World Ocean Observatory is pulling together a compendium of home-study tools and resources for teaching and learning about the ocean. These resources can be used by parents, schools, educators and others to address the educational gaps being created by local and national 'shelter in place' initiatives to help flatten the curve on the Covid-19 outbreak. This list of resources is a work in progress: please reach out if you have other key elements that we should be sharing with our global community.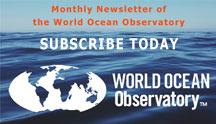 WORLD OCEAN EXPLORER 2020
With a game capable of reaching a global audience, WORLD OCEAN EXPLORER can expand interest in ocean issues and habitats, and excite students about the infinite possibilities associated with ocean exploration. LEARN MORE.