New Ships Green and Greener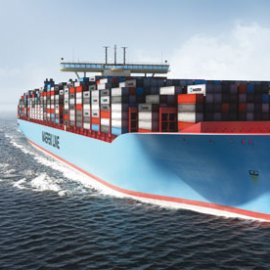 In June of this year Maersk Line exercised its option with Korea's Daewoo Shipbuilding & Marine Engineering Co., Ltd. to build an additional ten Triple-E ships, the world's largest and most efficient container vessels. Called the 'Triple-E' class for the three main purposes behind their creation — Economy of scale, Energy efficiency and Environmentally improved — the ships set a new industry benchmark for size and fuel efficiency. These new ships represent the latest trends and innovations in marine design and engineering. They focus on solution of environmental problems long associated with shipping: inefficient propulsion systems, use of low grade fossil fuel with extreme CO2 emissions, indifference to disposal of waste of all sorts, and fixed cost of unit transported.
______________________________________________________________________
Peter Neill, Director of the W2O and host of World Ocean Radio, provides coverage of a broad spectrum of ocean issues from science and education to advocacy and exemplary projects. World Ocean Radio, a project of the World Ocean Observatory, is a weekly series of five-minute audio essays available for syndicated use at no cost by community radio stations worldwide.
Photo: What the Maersk Triple E giant ship will look like when launched in 2013. Economies of scale give better fuel efficiency and reduced CO2 emissions. Credit: Maersk