China and the Sea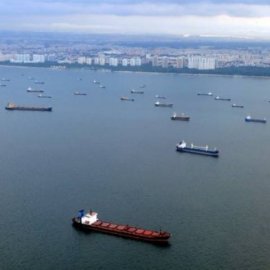 China's mercantile reach is everywhere. It is a major factor in global trade with the United States and Europe, international monetary activity and debt financing, and the geo-political, social and economic impacts to much of the globe, as well as an increasing concern with their maritime ambitions. In this episode of World Ocean Radio, host Peter Neill will discuss China's relationship with the sea, and will explain the exchange of goods, which are transported primarily by ship, and how continuing polar melt and other changing climate conditions are contributors to increased access to a time- and cost-saving transportation route.
__________________________________________________________________________
Peter Neill, Director of the W2O and host of World Ocean Radio, provides coverage of a broad spectrum of ocean issues from science and education to advocacy and exemplary projects. World Ocean Radio, a project of the World Ocean Observatory, is a weekly series of five-minute audio essays available for syndicated use at no cost by community radio stations worldwide.
Image: Strait of Malacca, one of the most important shipping lanes in the world. Credit: AllVoices.com | lethibichlan
Resources from this episode:
Straits of Hormuz
Suez Canal
Panama Canal
Malacca Strait (near Singapore)
Economist Magazine (Sept. 1, 2012)
Northern Sea Route
Northwest Passage
New China News Agency (Xinhua)