Operation Surf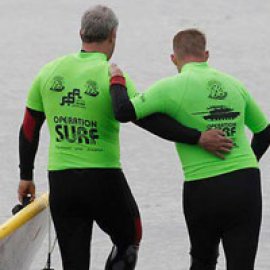 In late May a group of neuroscientists, oceanographers, artists, film makers, educators, poets, outdoor professionals and other blue-minded thinkers gathered at Blue Mind 3 to consider the science behind the question, "Why do we love water?" In this episode of World Ocean Radio, host Peter Neill will discuss the conference topic of empathy and will describe the work of one of the presenters, Van Curaza, whose organization--Operation Surf--uses recreational ocean therapy to help wounded active-duty veterans by exposing them to the healing power of the ocean through adaptive surfing.
________________________________________________________________________
Peter Neill, host of World Ocean Radio, provides coverage of a broad spectrum of ocean issues from science and education to advocacy and exemplary projects. World Ocean Radio, a project of the World Ocean Observatory, is a weekly series of brief audio essays available for syndicated use at no cost by community radio stations worldwide. Contact us for more information.