Inventing Fish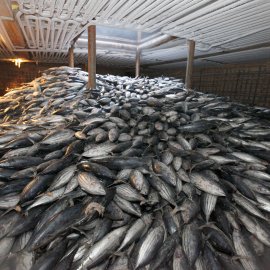 World fisheries are in crisis, with many species pushed to the edge of extinction. The current system is a recipe for disaster: demand is up; external suppliers operate outside of management regimes; sustainability seems an impossibility. In this episode of World Ocean Radio, host Peter Neill will discuss inadequate and controversial management regulations and a new approach called "catch shares" which aim to establish incentives to promote the long-term sustainability of fish stocks. And he will introduce an imaginative concept by some marine-based companies to utilize 100% of every fish caught: for supplements, food products, medical products, clothing, and more, thereby increasing the return of an existing resource.
About World Ocean Radio
Peter Neill, Director of the World Ocean Observatory and host of World Ocean Radio, provides coverage of a broad spectrum of ocean issues from science and education to advocacy and exemplary projects. World Ocean Radio, a project of the World Ocean Observatory, is a weekly series of five-minute audio essays available for syndicated use at no cost by college and community radio stations worldwide. A selection of episodes is now available in Portuguese, Spanish, French, Swahili, and Mandarin, enabling us to reach 75% of the world's population. For more information, visit WorldOceanObservatory.org/world-ocean-radio-global.
Image
Frozen tuna in the hold of a fishing ship.
Alex Hofford | Greenpeace | MarinePhotobank.org
Frozen tuna is seen in the hold of the Chinese ship 'Heng Xing 1' in an area of international waters near the exclusive economic zone of Indonesia. The mainland Chinese-owned vessel, which is Hong Kong-registered and Cambodian-flagged, was caught illegally trans-shipping frozen tuna from a Philippine fishing vessel and two other Indonesian vessels in the Pacific high seas. 2012.