Local Action for Global Change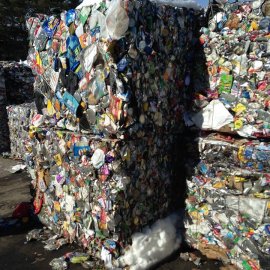 This week we continue the Earth Optimism Series, a 24-episode project in partnership with the Smithsonian Institution's Ocean Portal, to celebrate ocean solutions and innovative projects in the context of the Earth Optimism Summit, April 2017. In this episode of World Ocean Radio we discuss the history of the recycling movement and the modern day efforts of local groups such as ecomaine, a waste-to-energy and single-sort recycling facility in Southern Maine. And we offer suggestions for what we can do as consumers and citizens to mitigate waste from the trash cycle, and to keep plastics out of landfills and the ocean.
Resource from this Episode
< ecomaine: single-sort recycling & waste-to-energy facility
About the Earth Optimism Summit
April 21 - 23, 2017
Washington, D.C.
The Earth Optimism Summit, sponsored by the Smithsonian Institute's Ocean Portal, will be an unprecedented gathering of thought leaders, practitioners, pioneering scientists and researchers, major civic and industry participants, national and international media, and philanthropists who make up the conservation-minded citizens of our world. They will convene to discuss and share solutions – what are the best minds, boldest experiments, and most innovative community practices telling us about how to preserve biodiversity, protect natural resources, and address climate change?
The Earth Optimism Series is brought to you by the World Ocean Observatory in partnership with the Smithsonian Institution's Ocean Portal, to raise awareness of the Earth Optimism Summit during Earth Day weekend, April 21-23, 2017 in Washington, D.C. and around the world. Share your ideas at earthoptimism.si.edu.
About World Ocean Radio
Peter Neill, Director of the World Ocean Observatory and host of World Ocean Radio, provides coverage of a broad spectrum of ocean issues from science and education to advocacy and exemplary projects. World Ocean Radio, a project of the World Ocean Observatory, is a weekly series of five-minute audio essays available for syndicated use at no cost by college and community radio stations worldwide. A selection of episodes is now available in Portuguese, Spanish, French, Swahili, and Mandarin, enabling us to reach 75% of the world's population. For more information, visit WorldOceanObservatory.org/world-ocean-radio-global.