Our Children's Trust and the Public Trust Doctrine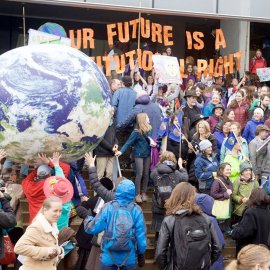 The public trust doctrine is designed to protect our natural resources for the benefit of future generations. Plaintiffs in a number of legal cases around the country, with the help of Our Children's Trust, have been fighting to bring legal action against state and federal governments, claiming not enough is being done to protect their future by reducing global warming. In this episode of World Ocean Radio, host Peter Neill will discuss one particular climate change case, a landmark victory in Eugene, Oregon, which rejected all arguments raised by the federal government to deny youth their right to proceed with the case. This is a monumental step forward, proving that plaintiffs do in fact have a right to bring charges of violations under the public trust doctrine.
About World Ocean Radio
Peter Neill, Director of the World Ocean Observatory and host of World Ocean Radio, provides coverage of a broad spectrum of ocean issues from science and education to advocacy and exemplary projects. World Ocean Radio, a project of the World Ocean Observatory, is a weekly series of five-minute audio essays available for syndicated use at no cost by college and community radio stations worldwide. A selection of episodes is now available in Portuguese, Spanish, French, Swahili, and Mandarin, enabling us to reach 75% of the world's population. For more information, visit WorldOceanObservatory.org/world-ocean-radio-global.
Resource from this Episode
< The Public Trust Doctrine in Natural Resource Law [pdf]
< Oregon | Our Children's Trust
< Oregon Plaintiff Kelsey Juliana Talks with Bill Moyers
< Landmark Victory in Oregon Climate Case [4-8-16]
< Nature's Trust by Mary Christina Wood