Poetry Says It Best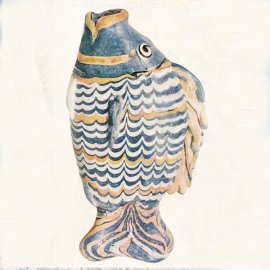 In this week's episode of World Ocean Radio, host Peter Neill reads "The Fish," a poem by Marianne Moore from a collection entitled "American Sea Writing: A Literary Anthology" which contains unique writings of American voices and experiences related to ocean passage and coastal observation.
About World Ocean Radio
Peter Neill, Director of the World Ocean Observatory and host of World Ocean Radio, provides coverage of a broad spectrum of ocean issues from science and education to advocacy and exemplary projects. World Ocean Radio, a project of the World Ocean Observatory, is a weekly series of five-minute audio essays available for syndicated use at no cost by college and community radio stations worldwide. A selection of episodes is now available in Portuguese, Spanish, French, Swahili, and Mandarin, enabling us to reach 75% of the world's population. For more information, visit WorldOceanObservatory.org/world-ocean-radio-global.
Image Credit
"Polychrome Vase in the Form of a Fish"
British Museum Postcard
El-Amarma, XVIIIth Dynasty, (c. 1365 BC)
Glass. 1.2 3/4″
The British Museum, London
Resources from this Episode
< American Sea Writing: A Literary Anthology
< Marianne Moore, "The Fish" | Poets.org