A Salute to SeaLab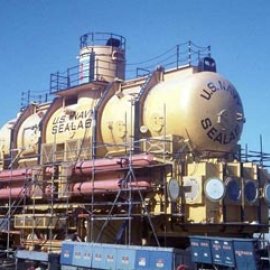 The US Navy's SEALAB initiative is celebrating its 50th anniversary this year, with now three pioneering aquatic living experiments under their belts to help understand how humans can best survive in underwater conditions. In this episode of World Ocean Radio, host Peter Neill salutes the work of SEALAB, outlining their enormous contributions to the development of tools such as breathing devices and medical protections, as well as their contributions to the further understanding of the physical and psychological demands of surviving in an underwater habitat.
About World Ocean Radio
Peter Neill, Director of the World Ocean Observatory and host of World Ocean Radio, provides coverage of a broad spectrum of ocean issues from science and education to advocacy and exemplary projects. World Ocean Radio, a project of the World Ocean Observatory, is a weekly series of five-minute audio essays available for syndicated use at no cost by college and community radio stations worldwide. A selection of episodes is now available in Portuguese, Spanish, French, Swahili, and Mandarin, enabling us to reach 75% of the world's population. For more information, visit WorldOceanObservatory.org/world-ocean-radio-global.
Image
SeaLab III under construction
Credit
www.history.navy.mil
Resources from this Episode
< Ocean News & Technology, January 2016
< Naval Undersea Museum, Keyport, WA
< Journal of Diving History | Historical Diving Society
< 1966 Symposium | H.A. O'Neil, Office of Naval Research | Project SeaLab