Arctic Futures, Part Four: Health and Welfare of the Indigenous People of the Arctic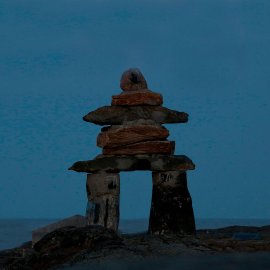 This week on World Ocean Radio: part four of a multi-part series on the Arctic. In this episode, host Peter Neill examines the rights of the indigenous peoples of the Arctic; their role in governance and their limited powers at the bargaining table; the realities of their health and welfare; and the myriad effects of management, policy, and outside interests by foreign governments.
About World Ocean Radio
Peter Neill, Director of the World Ocean Observatory and host of World Ocean Radio, provides coverage of a broad spectrum of ocean issues from science and education to advocacy and exemplary projects. World Ocean Radio, a project of the World Ocean Observatory, is a weekly series of five-minute audio essays available for syndicated use at no cost by college and community radio stations worldwide.
Image
Inukshuk in Rankin Inlet, Nunavut, Canada. Inukshuk are stone structures constructed to communicate with humans throughout the Arctic. Traditionally constructed by the Inuit, the word means "to act in the capacity of a human."