Hearts in the Ice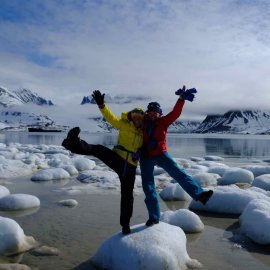 This week on World Ocean Radio we introduce listeners to two women who are planning to embark on an unsupported exploration in the Arctic: 270 days at the Bamsebu trapper's cabin in the high north. Hearts in the Ice is a citizen science initiative that Sunniva Sorby and Hilde Falun Strom will undertake in August 2019 as a means to create a global dialogue around changes in the Polar regions that impact us all. We invite you to join the conversation at heartsintheice.com.
About World Ocean Radio
Peter Neill, Director of the World Ocean Observatory and host of World Ocean Radio, provides coverage of a broad spectrum of ocean issues from science and education to advocacy and exemplary projects. World Ocean Radio, a project of the World Ocean Observatory, is a weekly series of five-minute audio essays available for syndicated use at no cost by college and community radio stations worldwide.
Image Credit
Hilde Fålun Strøm and Sunniva Sorby
Hearts in the Ice
About Hearts in the Ice
The first all-female overwintering project in Svalbard, Norway will survey rapid climate change escalation. Hearts In the Ice project founders Hilde Fålun Strøm and Sunniva Sorby are on a nine month expedition beginning in August 2019 in the High Arctic of Svalbard, Norway. They invite everyone to get involved and to be part of Hearts In The Ice. LEARN MORE about how you can participate.