The Money Cycle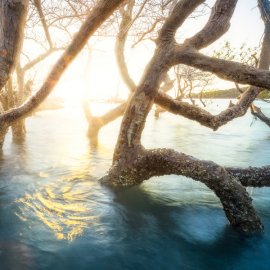 This week on World Ocean Radio we're talking about the latest OUR OCEAN Conference in Palau and the contradiction of mangrove protection and invested monies for environmental protection interests. What happens with all the promises made at OUR OCEAN? Where does the money go? What have past commitments achieved and how are outcomes measured?
About World Ocean Radio
Peter Neill, Director of the World Ocean Observatory and host of World Ocean Radio, provides coverage of a broad spectrum of ocean issues from science and education to advocacy and exemplary projects. World Ocean Radio, a project of the World Ocean Observatory, is a weekly series of five-minute audio essays available for syndicated use at no cost by college and community radio stations worldwide.
World Ocean Radio is produced in association with WERU-FM in Blue Hill, Maine and is distributed worldwide by the Public Radio Exchange and the Pacifica Network.
Available for podcast download wherever you listen to your favorites.
Image
Gaby Barathieu / Ocean Image Bank
Resource
Our Ocean Conference 2022 Palau
https://ourocean2022.pw/