The Outlaw Ocean, Part Four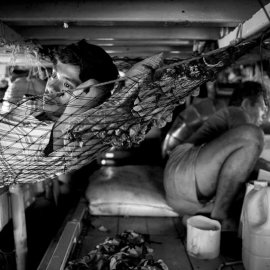 This week on World Ocean Radio we conclude our four-part series devoted to "The Outlaw Ocean", a new book by award-winning New York Times investigative journalist Ian Urbina. In this episode we ask, "After four years of reporting across the world on vivid and corrupt aspects of the ocean, what comes next? What conclusions can be made? How can we apply what is to be learned from this remarkable adventure?"
Do you prefer the written word? Head on over to Medium.com/@TheW2O.
About World Ocean Radio
World Ocean Radio is a weekly series of five-minute audio essays available for syndicated use at no cost by college and community radio stations worldwide. Peter Neill, Director of the World Ocean Observatory and host of World Ocean Radio, provides coverage of a broad spectrum of ocean issues from science and education to advocacy and exemplary projects.
Image credit:
Adam Dean
The Outlaw Ocean
Crime and Survival in the Last Untamed Frontier
by Ian Urbina
Order hardback, ebook and audio download from:
- Hive
- Waterstones
- Amazon
THE OUTLAW OCEAN is a riveting, adrenalin-fueled tour of a vast, lawless and rampantly criminal world that few have ever seen: the high seas.