Revealing the Seabed Floor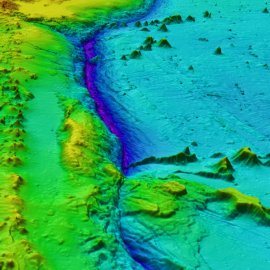 In 2019 a partnership was announced between The Nippon Foundation and the International Hydrographic Organization to undertake the GEBCO Seabed 2030 Project that aims to bring together all available data to produce A General Bathymetric Chart of the Ocean by 2030. This week on World Ocean Radio we outline the purposes of the project, seen as a major contribution to the United Nations Sustainable Development Goal (SDG 14): to conserve and sustainably use the oceans, seas, and marine resources for sustainable development.
About World Ocean Radio
Peter Neill, Director of the World Ocean Observatory and host of World Ocean Radio, provides coverage of a broad spectrum of ocean issues from science and education to advocacy and exemplary projects. World Ocean Radio, a project of the World Ocean Observatory, is a weekly series of five-minute audio essays available for syndicated use at no cost by college and community radio stations worldwide.
Resources from this episode
Nippon Foundation-GEBCO Seabed 2030 Project
Image credit
GEBCO