Synergy in Ocean Innovation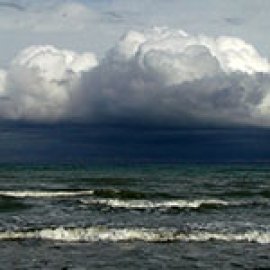 This summer we are revisiting some of our favorite World Ocean Radio episodes that highlight optimism for the ocean. In this episode we discuss two examples of innovative practices and their relationships to each another: 1. ocean research and data collection and the connection to geothermal energy generation, and 2. offshore wind energy and its relationship to desalination plants and the energy required to operate.
About World Ocean Radio
5-minute weekly insights dive into ocean science, advocacy and education hosted by Peter Neill, lifelong ocean advocate and maritime expert. Episodes offer perspectives on global ocean issues and viable solutions, and celebrate exemplary projects. Available for syndicated use at no cost by college and community radio stations worldwide.
Photo
Mostafameraji
commons.wikimedia.org/wiki/User:Mostafameraji
Creative Commons 4.0 International
Resources from this Episode
Cal Tech NASA Jet Propulsion Lab
Seatrek
Global Clean Water Desalination Alliance