Christmas at Sea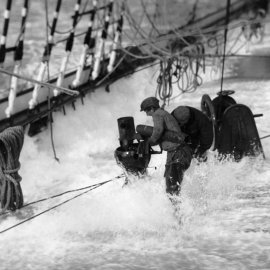 This week on World Ocean Radio we have a special seasonal reading of "Christmas at Sea", an evocative poem by Robert Louis Stevenson written in 1883. Stevenson, the son of a lighthouse engineer, had intimate knowledge of extreme weather, storms, and especially nor'westers. Merry Christmas to all from the World Ocean Observatory.
About World Ocean Radio
5-minute weekly insights dive into ocean science, advocacy and education hosted by Peter Neill, lifelong ocean advocate and maritime expert. Episodes offer perspectives on global ocean issues and viable solutions, and celebrate exemplary projects. Available for syndicated use at no cost by college and community radio stations worldwide.
Image
A heavy sea crossing the deck of the Parma (1902)
Alan John Villiers, 1933
© National Maritime Museum Collections