The Cultural Edge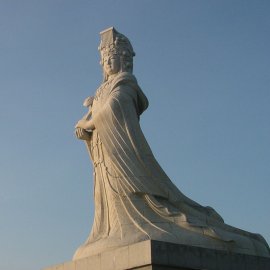 We wrap up our seven-part thematic overview of the ocean edge this week by discussing the cultural edge: the place alongshore where we interact with nature, with our spiritual selves, and with each other. We assert that the ocean is the ecosystem that connects us all, bringing us together as one population of humanity and civilization, capable of discovering solutions that will benefit all living things. The Cultural Edge is part 7 of a 7-part series dedicated to the ocean edge, exploring what takes place there, from the real to the symbolic.
About World Ocean Radio
World Ocean Radio provides coverage of a broad spectrum of ocean issues from science and education to advocacy and exemplary projects. World Ocean Radio, a project of the World Ocean Observatory, is a weekly series of five-minute audio essays available for syndicated use at no cost by college and community radio stations worldwide.
Image
Mazu is a Chinese sea goddess, a tutelary deity of seafarers including fishermen and sailors. Worship of Mazu has spread throughout coastal Chinese regions and throughout Southeast Asia.
Credit
Wikimedia Commons