The Leisure Edge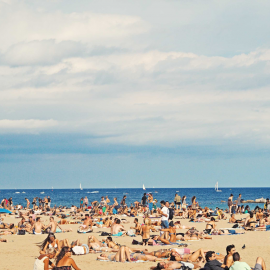 We have long enjoyed the ocean edge for leisurely ends: as a place to gather with family and friends to enjoy surf and sand, and to relax in the freedom and solace that being near the ocean provides. In this episode of World Ocean Radio we argue that we must reclaim the spaces near the ocean edge for recreation, for coastal protection and for authentic connection to the sea. The Leisure Edge is part 4 of a 7-part series dedicated to the ocean edge, exploring what takes place there, from the real to the symbolic.
About World Ocean Radio
World Ocean Radio provides coverage of a broad spectrum of ocean issues from science and education to advocacy and exemplary projects. World Ocean Radio, a project of the World Ocean Observatory, is a weekly series of five-minute audio essays available for syndicated use at no cost by college and community radio stations worldwide.
Image Credit
Federico Giampieri on Unsplash